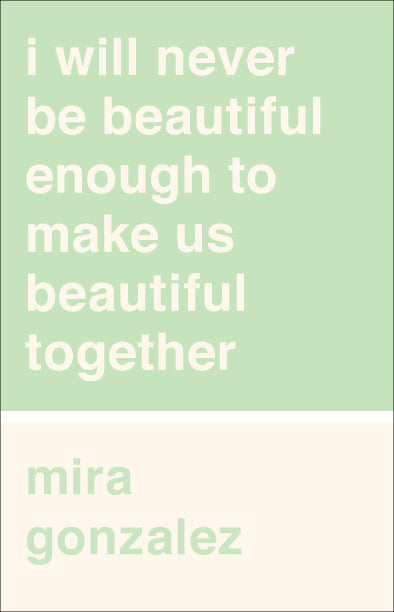 i will never be beautiful enough to make us beautiful together by mira gonzalez
$12.95
This is Mira's first book. Reading it, you get the sense that you've always thought these things. Then you feel glad someone's written them down into a concrete object for you to hold. 
Excerpts can be read here and here. 
Selected blurbs below.
Mira Gonzalez's book brings experimental poetry into the internet age with dark, distinctly female riffs on ambition, depression and love.
– Lena Dunham, famous person 
Mira Gonzalez's brain spans the weird space between bodies stuffed with Ambien and food and light from porn on laptops in an anxious, calming kind of way, one concerned more with what blood tastes like than how the blood got out. It's messed up and feels honest, open, like lying naked on the floor with your arms chopped off.
– Blake Butler, author of cool and gross books
The carefulness and precision and control with which Mira describes intense, uncommon, painful, mysterious experiences in her life made me feel very close to another human being (Mira, I think) in a way that is rare for me and that caused me to feel calmer and less desperate/despairing about my life.
– Tao Lin, author of hip ass books